Our staff understands that many people have anxieties and or fears of visiting the dentist. Fortunately, we make it a priority to offer a safe and effective solution to dental phobia with advanced sedation dentistry techniques so our patients can experience a more relaxed and pleasing dental visit. If you experience fear or anxiety before visiting the dentist, you are not alone. Dental anxiety is very common and can prevent patients from getting the necessary dental care. An absent attendance to your dentistry can lead to major problems and even risks to your overall oral health. We at Queen Chinguacousy will give you no reason to fear, but a reason to smile.
Nitrous Oxide Sedation
Nitrous Oxide Sedation, also known as laughing gas, can help both adults and children feel calmer and relaxed during the dental procedure. This is really helpful if they experience any dental anxiety or feel nervous about the treatment. We can offer this method to enhance your comfort.
When you receive the nitrous oxide and oxide mixture, a small mask will be placed over your nose. You will be asked to breathe as regularly but deeply. Though the sedative will not put you to sleep, it will help you feel calmer and more relaxed. You will be able to respond normally and remain alert. The sensation will be temporary and will stop as soon as you discontinue the flow of sedation to the nose. After the procedure, our dentist will provide you with oxygen to completely clear out the sedatives from your system.
What are the benefits of sedation dentistry?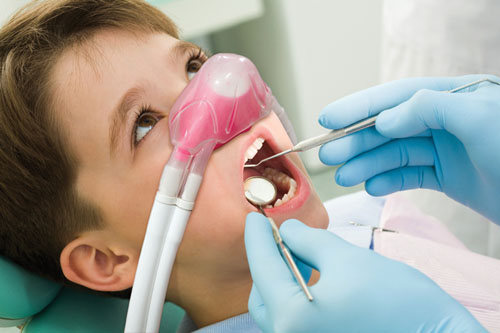 At Queen Chinguacousy, we offer our patients a way to reduce stress and achieve a more relaxed dental visit. With our advanced sedation dentistry techniques we can help patients who:
Are nervous at the thought of needles and basic dental treatment overall
Are uncomfortable with the sights, sounds, tastes, and smells associated with a dental office
Have sensitive teeth and gums
Have difficulty getting numb
Have a sensitive gag reflex
Are anxious about having dental conditions that may require an extensive treatment process
For more information on sedation dentistry or to schedule an appointment, please give us a call today. You'll always be greeted with nothing but smiles.