Invisalign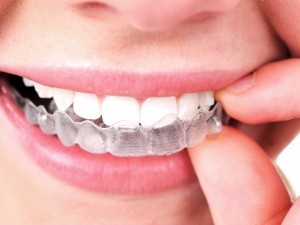 Invisalign is designed to straighten teeth, correct bite, and jaw alignment and also enhance the overall appearance of your smile without the need for metals or wires.
Invisalign offers adults and teenagers a much more comfortable and discreet way to straighten teeth and teeth alignment issues. It features a series of clear aligner trays that can be easily removed for eating, drinking and routine oral care. It basically provides a much more pleasant and comfortable straightening experience but still remain highly effective. Furthermore, its unobtrusive appearance means that people may not even notice that you are wearing braces. Queen Chinguoacousy dentists can assess your condition to determine if this treatment will help you achieve your dental goals.
Benefits of Invisalign
Customized to suit your teeth
Removable to allow for easy eating, drinking, brushing, and flossing
More comfortable than metal braces
Doesn't involve any metal, wires, or brackets
Less time in the dentist chair for adjustments
If you have more questions about the Invisalign procedure or if you want to know if this is the right method for you, or perhaps you want to schedule a consultation with our orthodontists at Queen Chinguacousy, please contact our office today.