We offer comprehensive dental services to help maintain your teeth and gums. Our wide range of treatments will give you the necessary means to preserve the long-term health of your teeth and gums.
With general and preventive care options at our dental practice, Dr. Gurpreet Mohi and her team can make sure that any problems are caught as early as possible with the objective of stopping them from becoming a much bigger issue in the future. We offer innovative ways to maintain your dental health and also to identify irregularities may affect your overall health. We have a team of specialized doctors, dental hygienist and dental staff that provides compassionate care.
Here are the dental services in line with our goal to help you maintain your healthy smile and prevent dental problems.
Routine Checkups Endodontics/ Root Canal Therapy Oral Cancer Screening Periodontal Treatment
Get to know more about our general and preventive care by calling us. We are happy to assist you in maintaining your general dental health.
Endodotics / Root Canal Therapy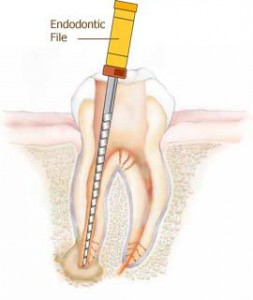 Pain that prevents you from sleeping or wakes you at night is often because of pulpitis or inflamed dental pulp tissue. This should be taken seriously and examined immediately. Root canal problems are often diagnosed due to severe discomfort due to pulpitis, but in some cases the tooth may die, becomes infected without any painful symptoms.
Signs You May Need Root Canal Therapy
Severe or spontaneous toothaches
Prolonged or severe dental sensitivity
Recurrent blisters or boils on the gums or gum line
Discoloration of a single tooth
Root canal therapy or is a dental procedure that helps save your tooth and remove the damaged tissue and treat the infection from the root canal system. This is an alternative to completely removing your tooth and allows you to preserve your natural tooth and the surrounding gum and bone.
Many people are afraid of root canal treatment and fear that it is painful. But the main goal of the treatment is to resolve a toothache effectively and quickly as possible. However, we take special care throughout the entire process to maintain comfort. Queen Chinguacousy offers local anesthesia and sedation to make sure there is no pain during your root canal therapy.
If you would like more information, or to schedule a consultation with dentists at, please contact us today.
Oral Cancer Screenings
Oral Cancer Screening is one of the keys to early detection and treatment for a condition that can lead to serious and often fatal consequences. Studies have shown that the chances for oral cancer survival are about 80 to 90% with early diagnosis and treatment.
We offer oral cancer screenings as part of your oral care exam at our clinic. It is important to bear in mind that early warning signs of oral cancer may not be noticeable in its early stages unless examined by a professional and this makes it important for you to have these as part of your routine screenings. We recommend that patients who consume alcohol and/or tobacco products to have this done twice a year and at least once a year for those who doesn't.
If it's time for you or a loved one to have a routine check up and you want oral cancer screening included, then call Queen Chinguacousy for your comprehensive dental assessment.
Periodontal Treatment
We offer advanced periodontal options to treat gum disease and effectively recondition your gum health. Untreated gum condition can lead to complications such as bleeding gums, gum recession, tooth loss, tooth movement and even put your overall health at risk.
We offer treatment of gum disease without the need for surgery. Our innovative periodontal treatment procedure removes pockets of bacteria and disinfects the gums. We used an advanced laser to help minimize discomfort, improve precision and decrease recovery time.
We use the periodontal procedure such as the non-surgical gummy smile reconstruction to remove the excess gum tissue to create balance and symmetry between the gums and teeth.
Routine Checkups
Routine Checkups are an essential part in maintaining a beautiful and healthy smile and optimal dental health. Here at the Queen Chinguacousy, we will spend time in comprehensively examining your mouth, teeth and gums and discuss any concerns that you may have. We have a network of dental specialist available to help you if further specialist care is needed.
One of the first things that we do is take your medical and dental history and this also includes your vital signs such as blood pressure. Our dentists will carefully examine your teeth, gums and your entire oral cavity. We will look for changes in your oral condition and it is easier to spot the changes if we see you regularly. We often recommend a dental check-up every six months.
Our hygienist may measure the depth of your gum pockets, which should measure three millimeters at most. You can do a good job of making sure your gums are healthy with regular brushing and flossing. Deeper pockets tend to accumulate food debris and bacteria, which may develop to gum disease.
To know how we can help you maintain your healthy and beautiful smile, don't hesitate to contact us.