Queen Chinguacousy offers the latest, and most effective restorative dental procedures designed to improve your teeth with both beauty and functionality. Customized to meet your specific needs and goals, our restorative dental offerings can be used to: replace missing teeth, treat cavities, strengthen damaged teeth, prevent future complications, and more. Ultimately, our top priority through restoration dentistry is to help you restore the health and appearance of your teeth so you have something to be proud and smile about. For more information about our restorative dentistry offerings, or to schedule an appointment at our office, please call us today, we look forward to speaking with you.
Dental Implants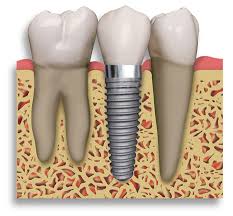 If you lost a tooth or your tooth was severely damaged that it was advised to pull it out before it will infect others, you might as well think about having dental implants. A dental implant is an artificial tooth root placed into your jaw as a replacement of the lost one.
There are two types of dental implants. The most common dental implant is called Endosteal which includes screws and blades surgically placed into your jawbone to hold a prosthetic tooth. The second type of dental implants is called subperiosteal that is placed on top of the jaw. After a dental implant operation, you will now have a new tooth that requires the same care like your natural teeth.
At Queen Chinguacousy, we understand how you feel during this operation. We understand you need assurance and comfort in every stage of the treatment. We feel your anxieties; we feel your pain. And so, here we provide you with an array of sedation dentistry option to help you relax and comfortable before, during, and after the operation. We look for your comfort. We are committed to taking away your fears and anxieties in every dental operation with us.
Porcelain Crowns and Bridges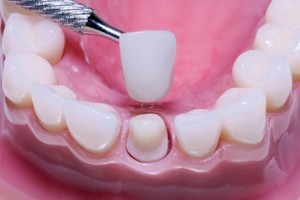 Dental Crown A dental crown protects your weak tooth from breaking or restore an already broken tooth. Queen Chinguacousy provides several types of crown including porcelain, ceramic, resin, and stainless steel. Normally, dental crown takes two separate dental visits. On your first visit, our dentist will take an impression of the tooth and send it away to the lab so that the crown will be made according to the specification of the impressions. So a temporary crown will be put on your tooth for the mean time for protection. On your second visit, the temporary crown will be removed and the permanent crown will be fastened to the tooth with the help of a special adhesive.
A dental crown is very helpful if you have broken tooth. Foreign objects may enter your broken tooth and will cause a toothache. Having a broken tooth means the possibility of bacteria infesting on it is great. Here we look and examine your teeth with care and professionalism to make sure we give you the right service and that you will be suffering no more pains.
Dental Bridge A dental bridge is effective when you are planning to improve your ability to chew by treating your missing teeth. Most often, dental bridges are made of porcelain that fills the gaps left by missing teeth. It enhances the supporting structures of your gum line. Dental bridges are very durable and resilient.
Our dentists will attach dental crowns to each adjacent tooth as support and then a dental bridge will be fitted into place. We will restore your smile and maintain the shape of your face. By replacing the missing teeth, you will be able to bite properly. A dental bridge will prevent your remaining teeth from drifting away out of position.
Porcelain Veneers
Traditional dentures can often be a hassle since it is prone to slipping or moving along the gum line. There are also various setbacks such as bone dystrophy and gum degradation. We can help you with those. Bram Country offers denture replacement. We offer innovative solutions that will help you with your denture problem.
Removable Implant Over-Denture This offers stability and convenience. New teeth are attached to two or more dental implants. The best thing about this is there is no need for dental adhesive. It offers convenience when it comes to eating since you are no longer restricted when it comes to food since this type of implant is more stable. The taste of food is the same since there is no use of adhesives. It is also easy to remove the dentures for cleaning and brushing. You can clean it just like as you would with natural teeth.
Removable Over-Dentures On an Implant Bar This offers a more secure fit because the bar is attached to the jawbone using two or more implants. This provides a much stronger support and it is easy to remove for cleaning and brushing.
Fixed Implant-Supported Bridges This is a durable solution for patients who want a more natural looking denture replacement. It is attached on four or more dental implants and it stimulated bone maintenance. It restores maximum chewing function and again since it doesn't use any adhesives, it maintains the sense of taste.
For more information on denture replacement and to know more about the options above, please contact us today to schedule a consultation.
Implants Supported Dentures
Implant supported dentures, which is also referred as anchored dentures, uses an attachment to provide a more stabilized and secure fit than the traditional dentures. The implant supported dentures "snaps" into place instead of resting on the gums. It is attached to the dental implants which have been fused to the jawbone.
Queen Chinguacousy can help you enhance the appearance and function of your teeth with implant supported dentures. This also gives the dentures a natural looking teeth that function just the same. You don't have to worry about their dentures slipping or falling out. It can allow you to eat, speak and smile with full confidence and comfort.
Benefits of Implant Supported Dentures
Natural-looking
Aesthetically-pleasing
Improved comfort
No adhesives or pastes
Reduction of bad breath related with dentures
Decreased likelihood for bone atrophy
Restored functionality and ability to chew, drink and speak as normal
Easy to maintain – can be cleaned and brushed like natural teeth
Who are candidates for this procedure?
Missing all or multiple teeth
Have sufficient jawbone density to support dental implants
Looking for a more secure form of denture
If you would like to learn more about how Dr. Gurpreet Mohi and her team can help you find a solution for missing teeth, or to schedule a dental appointment, please contact our office today.
Full Mouth Rehabilitation
We can create a beautiful and healthy new smile for patients in need of extensive dental work to repair or reconstruct missing or damaged teeth. Our dental specialist can create a complete reconstructive treatment plan with the use of restorative and cosmetic dentistry treatments such as porcelain veneers, dental implants, and more.
Our dental procedures can help repair and restore the form and function of your teeth. It can also improve your ability to eat, drink and speak. Basically, each full mouth reconstruction is strategically designed to meet the patient's unique needs. To create your customized smile, Dr. Gurpreet Mohi will evaluate your dental health and ask you about what you want to achieve. After the consultation, she will create a plan that will produce the best possible result for you. By working closely with you, we can restore your teeth so that you can use them comfortably while giving you a beautiful smile that will give you the confidence and assurance that you need.
Contact our team at Queen Chinguacousy today to set up a consultation to have your dental health assessed. We look forward to hearing more from you and how we can help you.